What endless possibilities you don't have when you work together
Lets-Groove ! A synergetic journey into a common ground
Yes, you also have to let go of a bit of ego and put your all into it at the same time. A fine balancing act and auspicious when it succeeds!
Here we are talking about us: We have both been happily married since 2010. Perhaps it is helpful for a common view that we have the same birthday (ten years apart).
We are both strong individuals who can also manage well on our own and are independent entrepreneurs. We have raised children and taken on responsibility in a wide variety of contexts and situations.
And time and again we realize – sometimes after challenging arguments: United we are better!  
When we manage to agree on a new level of solution, the results we produce together are much better than what each of us came up with individually.
There are prerequisites for this, which we want to fulfill together: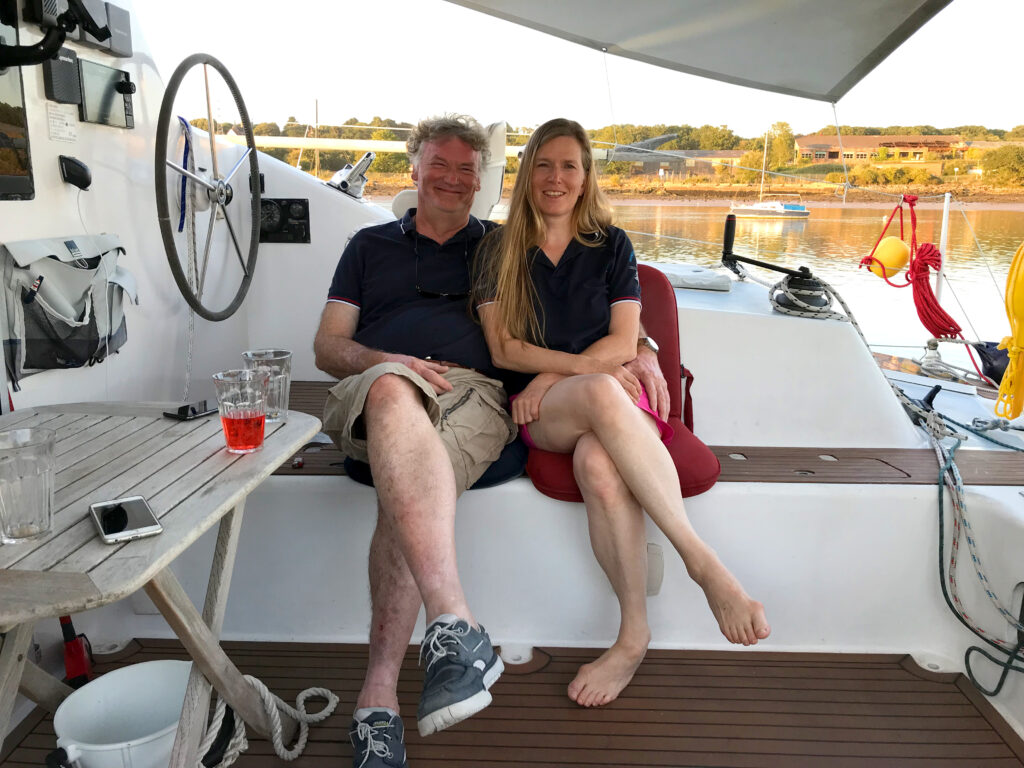 Expertise and a clear stance on a problem
Being able to minimize one's own ego for the cause
Living the acceptance for the partners' point of view

Listening takes precedence over self-expression
Building on the idea of the partner
Respect for the partner's performance and ability
Looking together in the same direction:
Political attitude, view of the world, ethical stance, and approach to life should be simila
Solution to the question: Watermaker – yes or no?
Pro: For our independence as sailors, the possibility to produce drinking water from salt water is existential. And the installation saves weight, because less water must be carried on board.
Con: The costs for installation (1000€), purchase (6000€), as well as follow-up costs for electricity production (5500€) and storage (10000€) are much too high – for the 22.500€ we can book an expensive berth in the Mediterranean Sea for three years or book 500 harbor days including water bunkering.
Our common view: Independence and a minimum of three months autonomy get priority especially in Corona times, where travel and berthing possibilities are no longer guaranteed. Quite a few of our fellow sailors were surprised by unpredictable restrictions and had to supply themselves clandestine with water and food at night.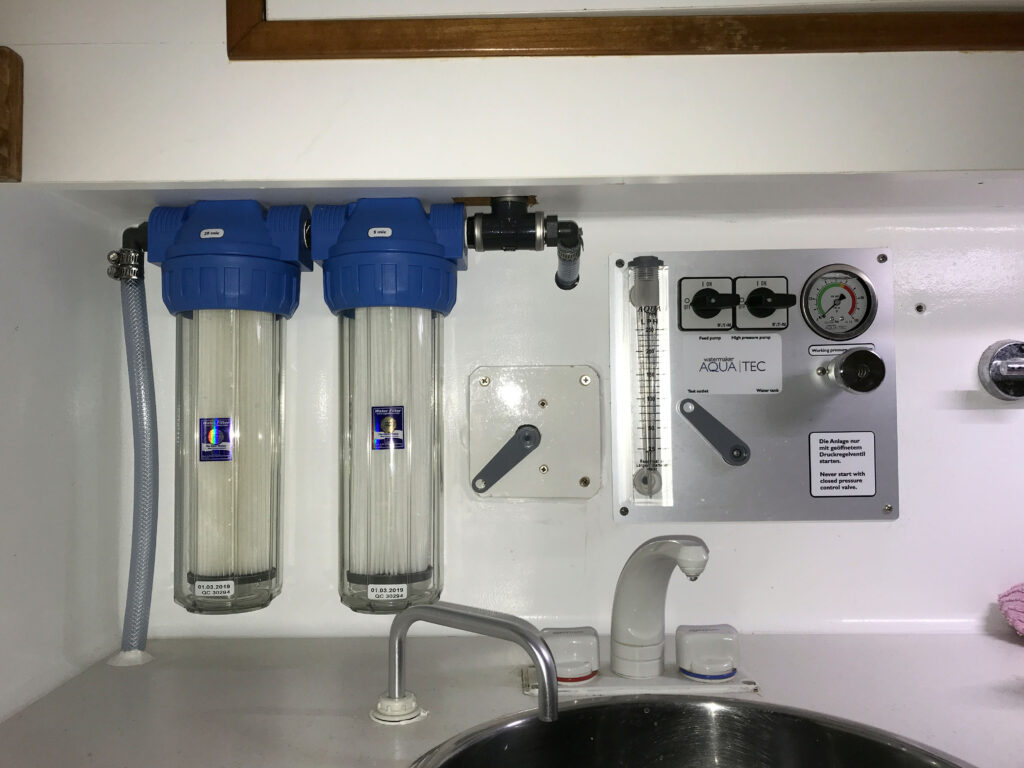 Collaborative implementation
B: We install the system ourselves and look for experts as advisors who may also be liable as dealers.
P: Division of labor according to competence – Petra masters the water installation and water pumps, Bernhard installs the 220V and 12V power supply.
United: Petra found the manufacturer Aquatec, an experienced inventor and manufacturer from Glückstadt near Hamburg, who was more convinced of the installation quality by self-builders than of the installation by experts, because self-builders (which are later users) know their ship, take the necessary time to plan the system according to their needs, and deal with problems properly. It would be almost impossible to pay for a craftsman with the planning and installation time required. For power production, conversion and storage in batteries, we use the expertise of our long-time IT service DD-Handel, which in the meantime had entered into sales for Mastervolt.
After two years of permanent optimization we now produce 250l of water sustainably after three days of battery charging with solar and wind energy while lying at anchor – This is the autonomy we had imagined.
If we need more water, we have to fall back on the generators (each 150 A at 24 V) of the machines.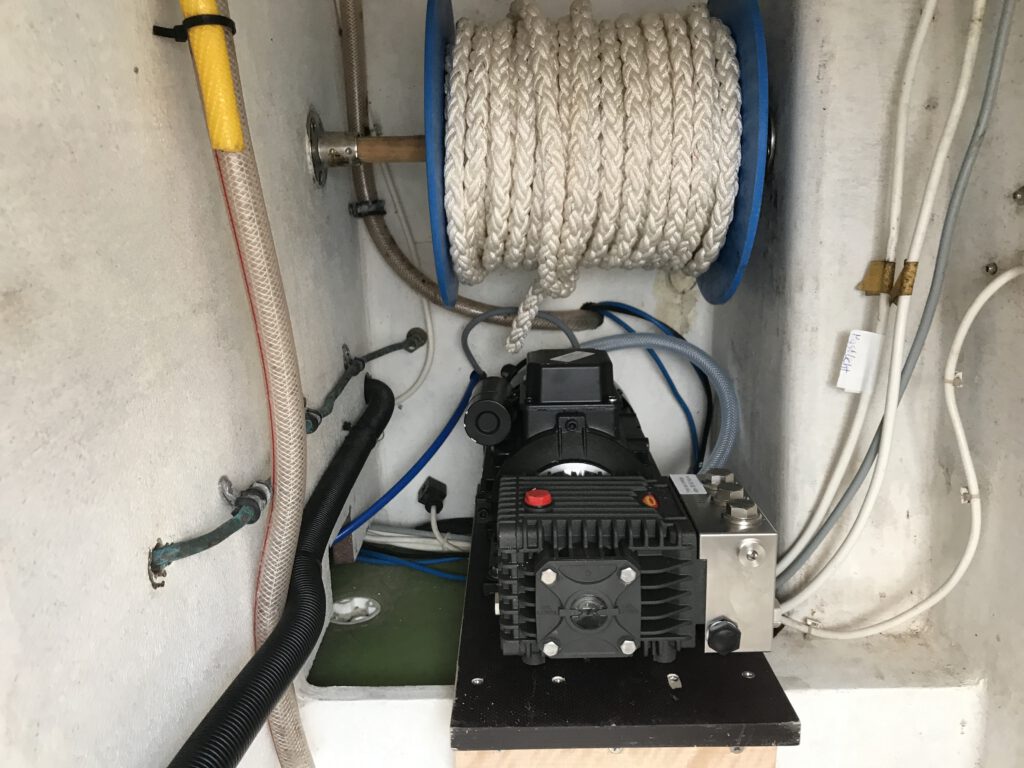 Speaking of different needs: Do you rather long for challenge or relaxation?